Kvůli koronaviru se postupně ruší nebo přesouvají koncerty. Zkontrolujte si raději konání akce na
tomto odkazu
.
Soulbönding Trip 2020
11.9.2020 18:00 - 13.9.2020 23:00 v Soulkostel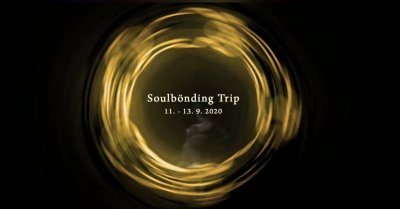 Vstupenky
500 Kč – Koupit vstupenky
Popis
The Journey to the depths of the Czech - Poland borderline and also a Journey to the depths of your own mind for the third time. More like a community than a festival.
Three days of a calm retreat and perfect getaway. From whatever you want.
This year bigger and badder, also because the two main headliners from last years Olaf Olafsonn and the Big Bad Trip and Bön are preparing a mysterious collaborative project.
psychedelic rock / noise / jazz / black metal / drone / ambient / post rock // workshops / craft beers / home made liquers / liquid light show / sleepover sessions
!!! TICKETS ONLY IN ADVANCE via GoOut

◯ Friday
17:00 opening
18:00 Instinct Primal
19:30 Tengri
21:00 Tři a pět minut
22:30 Olaf Olafsonn and the Big Bad Trip
00:00 Bön
sleepover ambient session
◯ Saturday
14:00 Shamanic Drum Journey
17:00 SMOGGG
19:00 Voluptas
21:00 Jan Kulka - Pramítačka (experimental visual project)
22:00 Der Blutharsch and the infinite church of the leading hand
00:00 OOBBT + Bön
sleepover ambient session
◯ Sunday
14:00 Cyanotype workshop with Weird Visuals
17:00 Vyšehrad
18:00 TBA
(end of the festival officially)
20:00 djs
◯ What about SLEEPING / ACCOMMODATION? ◯
there will be:
- free tent area next to the church
- sleepover concerts in the church - ambient djs (bring your own sleeping bags, sleeping mats, blankets, or anything you want and need // there's a wood-burning stove to keep you warm, so don't worry!)
◯ The whole territory of the village is in a protected nature reserve, and it's not possible to get directly by car to Soulkostel (just bands, org team, suppliers). PLEASE, those of you who go by car, leave the car in Vernéřovice (important things take with you!), and walk to the venue by the field road (see the attached map)
Tagy
Externí odkaz
https://www.facebook.com/events/soulkostel/soulb%C3%B6nding-trip-2020/500427554135601/